The 2022 Harvest Moon Dance Weekend's guest artists are musicians Karen Axelrod and Shira Kammen, and caller Beverly Francis.
---
Shira Kammen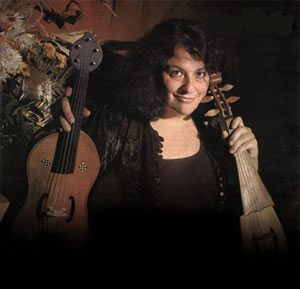 [ from Shira's website:]
Multi-instrumentalist and occasional vocalist Shira Kammen has spent well over half her life exploring the worlds of early and traditional music. A member for many years of the early music Ensembles Alcatraz and Project Ars Nova, and Medieval Strings, she has also worked with Sequentia, Hesperion XX, the Boston Camerata, the Balkan group Kitka, the King's Noyse, the Newberry and Folger Consorts, the Oregon, California and San Francisco Shakespeare Festivals, and is the founder of Class V Music, an ensemble dedicated to providing music on river rafting trips. She has performed and taught in the United States, Canada, Mexico, Europe, Israel, Morocco, Latvia, Russia and Japan, and on the Colorado, Rogue, Green, Grande Ronde, East Carson and Klamath Rivers.
Shira is perhaps best known to the English country dance world as a member of Roguery (who play for all the Impropriety recordings), and the Odd Sundays Garage Band (who have been providing the ECD world with wonderful new recordings through the generosity of the Bay Area Country Dance Society and its supporters).  Based in the San Francisco Bay area, she  performs with several other groups: a medieval ensemble, Fortune's Wheel: a new music group, Ephemeros; an eclectic ethnic band, Panacea; the early music ensembles Cançoniér and In Bocca al Lupo, as well as frequent collaborations with performers such as storyteller/harpist Patrick Ball, medieval music experts Margriet Tindemans and Anne Azema, and in many theatrical and dance productions. She also happily collaborated with singer/storyteller John Fleagle for fifteen years. She has worked with students in many different settings, among them teaching summer music workshops in the woods, coaching students of early music at Yale University, Case Western, the University of Oregon at Eugene, and working at specialized seminars at the Fondazione Cini in Venice, Italy and the Scuola Cantorum Basiliensis in Switzerland.
Shira has played on several television and movie soundtracks, including 'O', a modern high school-setting of Othello and ''The Nativity Story', and has accompanied many diverse artists in recording projects, among them singers Azam Ali and Joanna Newsom. Some of her original music can be heard in an independent film about fans of the work of JRR Tolkien. The strangest place Shira has played is in the elephant pit of the Jerusalem Zoo. She has recently taken courses in Taiko drumming and voiceover acting.
---
Karen Axelrod
Karen Axelrod's piano playing combines expressiveness, energy, lyricism and power. She is equally at home with styles ranging from traditional folk melodies to passionate tangos to old world French musette waltzes to English Country dance tunes and much more. She left behind classical music over 40 years ago, and has happily settled into her musical home….somewhere between folk, classical and improvisation. Her playing is soulful yet touched with humor and whimsy.
When she is not playing concerts, Karen is one of the busiest and most sought after traditional dance musicians. Her elegant and rich piano playing and her colorful, gorgeous accordion playing are enlivened by her off-beat humor.
Karen plays with a number of bands for traditional dance events as well as concerts. Her bands include Alchemy, Foxfire, Peregrine Road, and 3rd String Trio.
Based in Brattleboro, VT, she tours extensively throughout the United States, Canada and abroad at dances, festivals, concerts, camps private parties and other events.
---
Beverly Francis
Beverly Francis still finds English country dance endlessly fascinating after more than four decades. She danced and called for years in New York City but is now happily transplanted to Ohio, the land of grandchildren.
Beverly emceed many New York Playford Balls and has called dances up and down the East Coast as well as across the country and in Canada. She has been on the staff at several Pinewoods dance camp weeks. Beverly is known for the clarity of her calling and her broad knowledge of dance history. These skills, coupled with a subtle sense of humor, enhance her rapport with dancers. A former member of Ring o' Bells Morris and New World Sword, Beverly also has a particular fondness for Jane Austen's country dance.